Isac Roths - Winner of Clifford P. Norman Award for his work with BBBS
We are thrilled to announce that Isac Roths, the Chief Executive Officer of FCAH Aerospace, has been awarded the prestigious Clifford P. Norman Award for his unwavering dedication and remarkable contributions to Big Brothers Big Sisters of Kentuckiana (BBBSKY). This esteemed accolade recognizes local board leaders who embody the qualities of commitment and generosity that define the life of the revered Cliff Norman. For over 25 years, Cliff served as a board member for both Big Brothers Big Sisters of Metropolitan Detroit and Big Brothers Big Sisters of America, leaving behind a remarkable legacy of compassion and goodwill as a representative for BBBS in numerous local and national initiatives.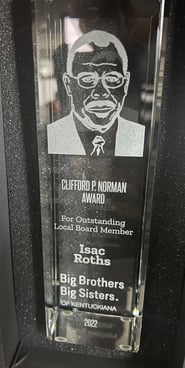 Isac Roths has been a fervent advocate for BBBSKY since 2017, a board member for the last six years, and acting Board Chairman for the last two years. His contributions during the pandemic were invaluable, as he initiated the Big Challenge, a campaign that encouraged donations from both corporations and individuals, with the added incentive of matching donations. Additionally, Isac spearheaded the successful fundraising efforts of the Links for Little Golf Tournament. His collaborative nature led to joint agency fundraising ventures, resulting in an impressive net of $100k. Isac's leadership has been instrumental in developing a local strategic plan that provides a clear vision for BBBSKY's next three years. Despite being unable to accept the award in person, Isac humbly expressed his deep honor and genuine passion for being a part of Big Brothers and Big Sisters. He is committed to making a positive difference in the lives of future generations and inspiring others to contribute their time and resources.
Not only does this award reflect the exceptional qualities of our leader, Isac Roths, but it also exemplifies the values and dedication of our organization. At FCAH Aerospace, we are committed to actively engaging with our communities, inspiring and motivating others, and making a meaningful impact in the fight against economic and educational disparities. To learn more about the organizations we support, visit our Community Impact Page.